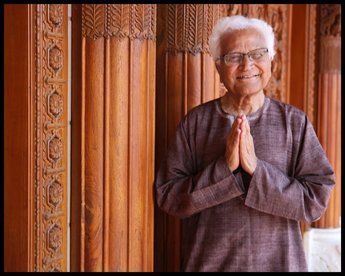 I am Jagdish P Dave, born in Gujarat, India where Mahatma Gandhi spent many formative years of his life. I was blessed to attend the evening prayer meetings at his Ashram, called Gandhi Ashram. I was only 4 years old at that time. I would never forget his Presence. As a high school student I participated in Freedom movement based on nonviolent civil disobedience. I am very indebted to Gandhiji for the impact he has had on my life.

I had an enriching educational, experiential and professional background in Eastern and Western cultures. I arrived to the United States of America ("USA") from India in 1959 via the Fulbright Exchange Program. In 1964 I obtained my M.A. and Ph.D. in Education from the University of Chicago in Chicago, Illinois. In 1992, I obtained my Doctoral degree in Clinical Psychology, Psy.D, from the Illinois School of Professional Psychology.

I taught for 15 years in India and for 40 years in the USA as a High School teacher and as a College and University Professor of Psychology. I am a member of Phi Delta Kappa, American Psychological Association, International Association of Stress Management and International Rotary. During the past ten years I have focused my works in holistic health, stress management, mindfulness parenting, meditation, and multidimensional wellness through leading various conferences and workshops. I continue to host monthly Interfaith Meditation and Satsanga (gatherings) in Tempe, AZ.

I am a Life Consultant at my private practice in Phoenix, AZ. I offer workshops in stress management, holistic wellness, mindfulness parenting, multi-cultural counseling, peace education, meditation and community service. I have authored two publications in Psychology and numerous articles, audiotapes and videotapes on holistic health, stress management, holistic wellness and spiritual development.

My doctoral degree research was on Integrative Meditation for Reducing Cardiovascular Reactivity. The research clearly and strongly demonstrates how the integration of belly breathing-pranayama, yoga based gentle stretching exercises and meditation normalize heart rate, blood pressure and regulate emotional reactivity. I taught psychology and holistic stress management program at Governors State University, in University Park, Illinois. I retired as Emeritus Professor of Psychology in 2000. Since then, I have been teaching in Phoenix, AZ at Desert Garden Montessori Peace Education, Mindfulness Parenting and helping children who manifest emotional and behavioral problems.
​
I conduct Mindfulness Meditation workshops at Yoga Centers, medical clinics, and holistic health centers at Naperville, IL in summer:May-August. I also hold once -a-week satsanga meetings in Naperville on Patanjali Yoga Sutra and the Bhagavad Gita. I also perform Vedic weddings.